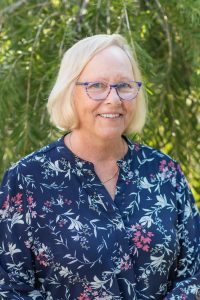 Camille Falconer was raised in the land of 10,000 lakes, beautiful Minnesota. While the Midwest provided an ideal place to grow up she has claimed Florida as home since 1982. Camille follows a long line of educators in her family. Her passion to teach ASL began her first year in the classroom. Research based evidence supports language acquisition, vocabulary and self esteem increase with signing.
Before college Mrs. Falconer attended Youth With A Mission in Lausanne, Switzerland. Included in Bible classes was extensive travel in Europe and the Middle East. Sharing the gospel in places void of Christian fellowship was an incredible blessing. Following Y.W.A.M. Camille served as manager of a Christian bookstore in Amsterdam, Holland. The ministry included a coffee house each evening where the grace of God was poured out to world travelers.
Three sons and six grandchildren all live in the general area. Time away from the Veritas campus finds Camille enjoying her family, swimming, reading and being active in her church and community.