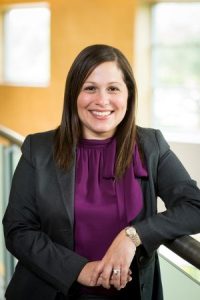 Maria was born and raised in San Juan, Puerto Rico. She graduated from the University of Puerto Rico Medical School in 2003 and completed a master's degree in Clinical Research in 2006 and her fellowship in Gastroenterology at Mayo Clinic in Rochester, MN in 2011. She joined Mayo Clinic Florida as staff physician in April 2012. At Mayo Clinic she's had various administrative roles including the Associate Chair of Endoscopy for the Division of Gastroenterology, Medical Director for Accreditation, Medical Director for Supply Chain, and Associate Chair for the Outpatient Practice for the Department of Medicine.
Maria is active in the community as a medical volunteer at Volunteers in Medicine in downtown Jacksonville. She is also active in her church, Crosswater Community Church, serving in the Hospitality Ministry.
Maria and her husband live in Ponte Vedra with their two sons, who attend Veritas. In her free time Maria enjoys spending time with her family, working in the yard taking care of her fruit trees and cooking.