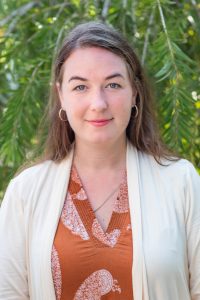 A sought-after specialist in vocal technique and sacred music, Ashley Adams comes to Veritas with a background in singing and working for churches of many denominations, including Non-Denominational, Baptist, Methodist, Episcopal, Anglican, Lutheran, and Catholic.
Ashley uses her extensive background in opera, musical theater, choral music, and contemporary music to equip individuals with the musical skills needed to understand and participate in any music program. Topics include music theory, music history, theology of music and singing, and performance practices of various genres of sacred and religious music in ministerial settings.
In addition to her work at Veritas, Ashley is the Music Director at Corpus Christi Catholic Church and the Saint Augustine Schola Cantorum. She also runs a voice studio that teaches people how to sing virtuosically and apply their skills in professional and volunteer settings.